There are many organizations in the retail, healthcare, and manufacturing industries that choose to provide their staff with a uniform. The same goes for the hospitality industry with custom-designed uniforms preferred because of the numerous benefits they provide to both staff and the customers that they serve.

What do we mean by that? Well, to begin with, when a restaurant's chef, waiters, and front-of-house staff are all wearing a specially-designed uniform, they're instantly more identifiable in their different roles. The knock-on effect of this is often reduced waiting times, better and more responsive customer service, and an increase in overall customer satisfaction.

Turning the Dining Experience Into an Event
While having a well-designed hospitality uniform is important in terms of staff comfort, food safety, and professionalism, it also serves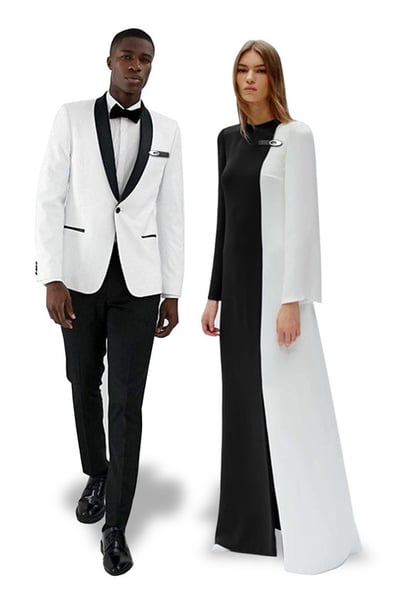 a crucial purpose when it comes to appearances. Let's face it, who can deny that smart chef and waiter uniforms contribute to the creation of a professional image?

Uniforms worn in the foodservice and restaurant industries play an important role in your restaurant's brand recognition and form an essential part of your brand signature. Of course, the quality of the food you serve is another vital element in this equation, but customers are not only interested in the culinary fare that you provide.
Showmanship at Nusr-Et
You've only got to look at what's on offer at restaurants like Nusr-Et to see what we mean when we talk about adding showmanship to proceedings and making it an event, rather than a mere restaurant visit. This is something that draws customers in, every bit as much as the quality of the establishment's cuisine.

Nusr-Et - a.k.a. Nusret Gökçe, is a Turkish entrepreneur, restaurateur, and self-proclaimed entertainer who has created a global chain of venues where the food, the atmosphere, the entertainment, and indeed, the custom uniforms all form part of a massively popular multi-dimensional dining experience.

It's the kind of thing that can absolutely set you apart in what is a highly competitive marketplace.
Other Things to Consider When Choosing Your Custom Uniform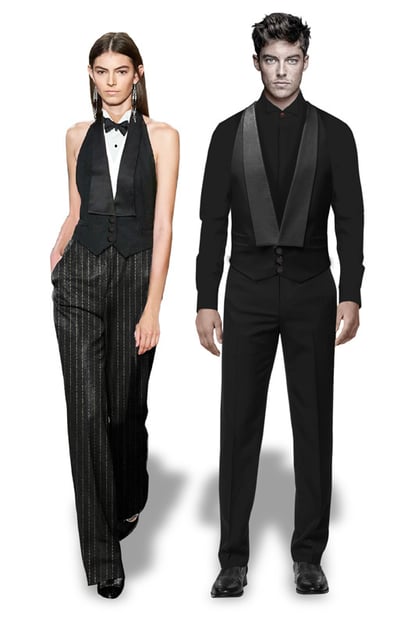 "Of course, there are many other functional and aesthetics-related aspects that need to be considered when choosing the ideal custom restaurant or food service uniform for your needs. Let's take a closer look at the aspects that need to be considered.

Food Hygiene

As set down by the Food Safety Act of 1990 and the current Covid-restrictions, anyone working with food is required to ensure that what they prepare is safe. Having an appropriate uniform is a great place to start, with your chefs and other food service staff wearing the right protective clothing to ensure contaminants found on everyday clothing like dirt and pet hair aren't transmitted to the food.

Comfort & Personal Safety

Other aspects that shouldn't be ignored include comfort and personal safety in a working environment that's commonly full of hazards. With hot surfaces, hobs, and ovens everywhere, commercial kitchens can become extremely warm and uncomfortable for chef staff - particularly when they're working long shifts.

The same applies to waiting staff, who have their own set of hazards to contend with. Slippery surfaces can present a real danger while they run around making sure everyone is served promptly, so the uniform needs to be designed in a way that affords some protection against it.

So, it stands to reason then that when deciding on the appropriate uniform from garments that include chef whites, coats, toques and hats or waiter pants, shirts, dresses, aprons, and shoes, it's vital they provide protection while also allowing the wearer to enjoy flexibility, breathability, and comfort, without irritation.
Each Restaurant Uniform Component Serves a Purpose
There are a variety of different staff uniform components to consider when choosing the perfect options for your requirements. Whether talking about chefs or restaurant staff uniforms, there are many different garments that not only carry out their food safety functions, but that also denote restaurant hierarchy seniority in a clear and obvious way - for both staff and customers.

The uniform choices you make for use in busy, working kitchens also need to be able to stand up to issues like staining - as spilled or dropped food is a common occurrence. The marinara sauce, in particular, can leave an almost indelible stain on certain fabrics, which is why your staff uniforms should be stain resistant, but also able to stand up to the wear and tear of daily work and regular washing.
Your 5-Point Restaurant Uniform Checklist
So, to help you in your restaurant uniform decision-making, read on to use our five-point checklist that will help you address the questions that will ultimately lead to the correct choices being made.
Point #1 - Black or White Chef Jacket?
Chef jackets come in a range of different styles and practical functions, which can make choosing yours quite tricky. Typically speaking, chefs will wear a white or a black jacket, but which is better suited to your needs and how do you work it out?

Well, white jackets are more prone to staining from foods like soup or bolognese, with black jackets showing stains from things like sugar, flour, or cream. It can make you feel like there's no ideal choice, however, if you focus on getting something thick, breathable, loose, and stain-resistant, you won't go far wrong.

The best choice is often a double-breasted jacket of either color to provide heat and splash protection. This is most often represented by garments created using a polyester-cotton mix or polycotton.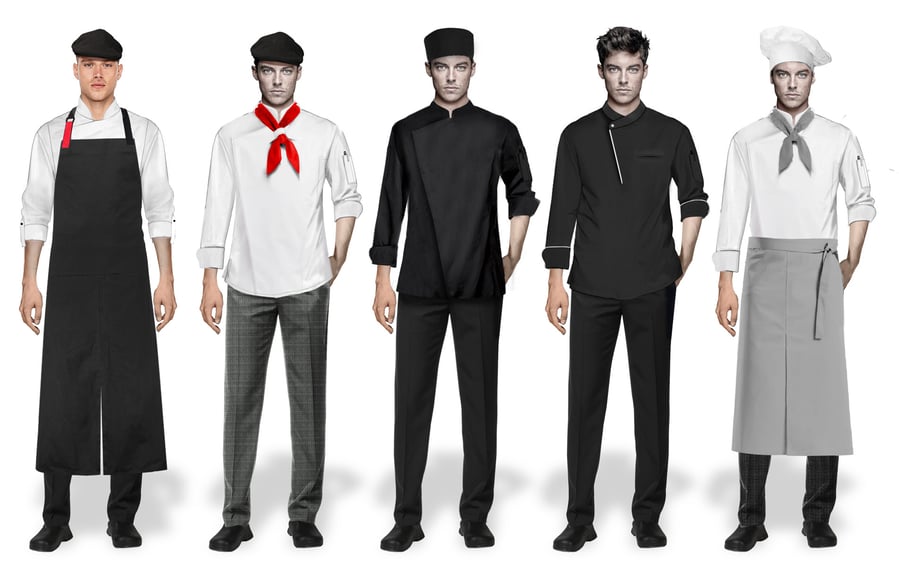 Point #2 - What Type of Chef Pants?
In the same way, chef jackets protect the torso, chef pants protect the wearer and the food being prepared. Traditional designs include a tight black & white check, however, some chefs are now turning to more plain designs. Again though, in this regard, the pattern is secondary to comfort to the wearer.

Whatever branding or coloring you choose, you should opt for pants that are comfortable and perhaps even a little baggy to ensure good ventilation. Thick material is advisable to provide adequate protection against hot spills.

Another popular option comes in the form of cargo pants that provide storage for items like pens, hairnets, and clean tasting spoons. Sure, you're in a kitchen, not an office, but having these important items instantly accessible can save a lot of time during the working day.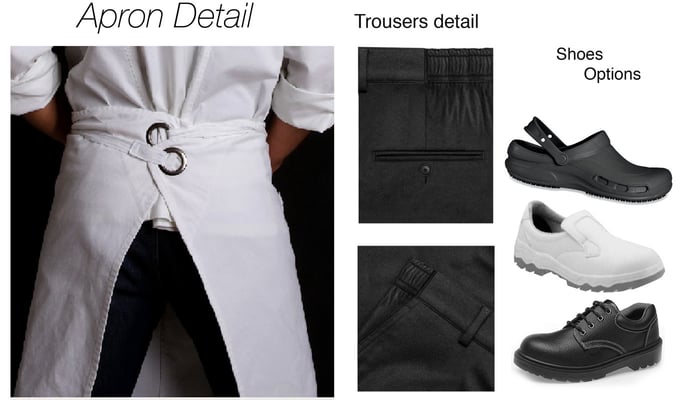 Point #3 - Hairnets or Something Else?
In addition to their main uniform, chefs need to wear hair coverings to protect the food being worked on during preparation. So, we're

talking about chef hats to cover the hair, beard snoods to cover facial topiary, and hairnets for those that need them.
Even this choice comes with a number of alternatives, with the Toque Blanche (meaning 'White Hat' in French) being the most iconic of all chef headwear. That said, many modern-day chefs are eschewing this option for much less extravagant headwear to include bandanas and skull caps.

In truth, it's those establishments wishing to symbolize prestige that tends to stick with the classic Toque Blanche.

Point #4 - Whether to Include Aprons?
While not typically thought of as being part of classic restaurant apparel, aprons are regularly worn over whites by both chefs and waiting staff. Aprons not only provide extra heat and stain protection for chefs, but they're also highly beneficial to waiting staff who find it easier to carry around the items they need to carry out their job - while also enjoying the physical protection they afford.

When opting to include an apron in your restaurant uniforms, you should go for a color that goes with your branding and fabric that's both durable and easy to wash. When combined with a decorative handkerchief, it can serve to complete the ideal uniform in a way that's consistent with your brand.
Point #5 - Appropriate, Comfortable, Slip-Resistant Shoes
Your average full-time restaurant worker will spend many hours on their feet during the day - something that can really sap the energy. However, when right, comfortable shoes are chosen, this fatigue can be reduced significantly while also preventing slip-related accidents.

There aren't many more hazardous working environments than you'll find in most busy restaurants, like spills, knives, hot food, and fast-moving waiting staff darting about between the tables. For chefs, a popular choice is a clog, largely because they're robust (for drop protection), comfortable, and easy to clean.

As we just mentioned, comfort is crucial, so whatever footwear you decide upon, should offer good shock absorption, as this greatly relieves pressure on the soles of the feet that can build up when standing on a hard floor for hours at a time.
Good Uniforms Improve Protection, Function & Perception
When you choose your restaurant uniforms wisely, you address three important elements. First, you get something that allows your staff and your chefs to be comfortable and protected, helping them to be satisfied in their work and to reach their full potential.

Secondly, you get uniforms that are fit for purpose, empowering your staff to work more time-efficiently and comfortably, with plenty of storage for the equipment that makes their job easier. Both element one and element two then contribute to achieving element three.

Element three is perception, with a well-designed custom restaurant uniform representing an important part of the event-like experiences offered by the likes of Nusr-Et. Not only do they offer a consistent brand-aligned appearance, but comfortable, protected staff are so much better placed to offer the kind of magical service that enhances reputations and drives repeat custom.

You see, your restaurant uniforms are far more than mere garments, as they represent your signature, every bit as much as the food on your menu.