When travelers see well-dressed cabin crews proudly walking together through international airports, looking stylish and turning heads, onlookers could be forgiven for thinking they've just stepped off the catwalk. There's a very good reason for the sophisticated appearance of these men and women, as they represent their organization and the first thing that people picture when they think of the airline, so it's vital that they look great.
Some companies get it wrong, dressing their flight attendants in old-fashioned, unflattering cuts that do nothing for the figure and that look incredibly uncomfortable. However, there are airlines that get things just right by creating stunning uniforms (American Airlines uniform, Singapore Airlines uniform, Emirates uniform, Qatar Airways uniform, Flydubai uniforms, Turkish Airlines uniform, Uzbekistan airways uniform) that take the comfort and flexibility of their cabin crew into consideration, while still focusing on creating highly stylish garments.
Your flight attendants are very much ambassadors, representing the face of your airline and their appearance needs to reflect this fact. Of course, this won't be news to you. However, when GMs and airline Chairmen are looking for a high-impact method of creating the environment for success, there's no better option than investing in a new uber-stylish custom flight attendant uniform design.
A Great Flight Attendant Experience = A Great Customer Experience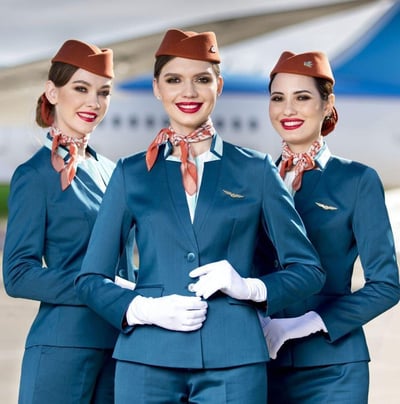 By using livery, entertainment systems, and the aesthetics of your aircraft interiors, it's possible to re-emphasize your airline's identity, while simultaneously enhancing the experience for your passengers. Your crew's uniform forms part of the entire image of your company, so it's vital for strengthening your brand position.

When we talk about investing in a new air hostess dress, skirt, or shirt for your cabin crews, you can forget everything you know about run-of-the-mill flight attendant uniforms. What we're describing are exceptionally stylish custom-made cabin crew uniforms that very much represent the height of fashion in the air. We're talking about uniforms that will make your hosts and hostesses feel incredible.

When your flight attendants feel amazing, it makes it that much easier for them to not only feel invested and proud to work for your airline, but also to offer exceptional customer service to your passengers. Without making any significant infrastructure changes, you can facilitate the introduction of an engaging holistic brand experience that will leave its mark in the minds of your customers - now that's quite a return on investment!
Exceptional Service Begins in the Minds of Your Air Crew
Perception plays such a key role in providing extraordinary customer experiences - the kind that your airline's continued success rides on - and when you provide aviation uniforms that wouldn't look out of place on the catwalks of Milan, you sew a seed of inspiration in the minds of your crew. You empower them to be their best and to deliver customer service that lives long in the mind
DressBest Brochure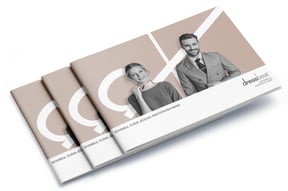 Bespoke Uniform Styles
Typically speaking, airlines will require a uniform design program that is unique to them, with the aim of creating a superior experience for passengers using functionality and design. The materials fit and look will vary from airline to airline, with uniform styles needing to be tailored to meet their precise needs and express their brand values.
From concept to design, bespoke flight attendant uniforms are created in line with your brand guidelines and vision. This is then turned into a prototype that meets the brief, the required functions, and the needs of the wearers. Then, all this hard work pays off, as the uniforms and accessories for your cabin crew, airline staff, ground services, and flight deck personnel will meet your every need.
So, if you're looking to make a key change, why not consider investing in next-level flight attendant uniforms? It could be the best decision you make all year for your company, your employees, and your passengers.
Need help navigating your way to the best uniform for your Cabin Crew?
Click Here to Schedule an appointment with one of our sales specialists and let us show you the way.