There's no doubting the fact that hygiene standards are of prime importance in the healthcare industry, as a lack of it can literally put lives at risk. Rather than being merely 'clean', healthcare establishments need to clinically clean, with staff adhering to the strictest hygiene practices.
However, that is far from all that needs to be considered, as the uniforms worn by healthcare staff must also be clean and hygienic. In fact, the uniforms worn in this setting are of the utmost importance, as they represent a significant first step in controlling the spread of infection of any kind of pathogen.
All Types of Healthcare Uniforms Serve a Purpose
At the beginning of any given working day, healthcare uniforms are clean and sanitized, as they should be, but as patients are visited by staff during their rounds, bacteria or viruses can easily be picked up. This is why its imperative the uniforms provided are manufactured from antiviral materials and serviced in the same location as they're worn.
Whether talking about lab coats or nurses' uniforms, having the right workwear matters, as it protects employees from contaminants while also making their job easier. Medical scrubs also fit into this category, and need to be designed to suit their specific purpose, which is why many establishments turn to custom suppliers who provide total design freedom.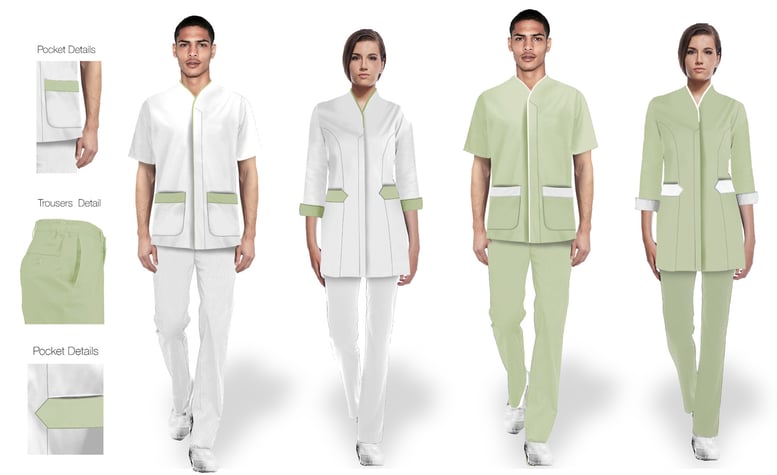 The Benefits That Custom Healthcare Scrubs Provide
For both patients and medical professionals, scrubs represent a vital component in the provision of safe and supportive healthcare, so it's imperative that they're both well designed and properly cleaned. Here are just some of the benefits scrubs provide.
Protection Against Bodily Fluids - high-quality medical scrubs prevent patient bodily fluids from making direct contact with the wearer's skin due to being made of a robust, thick fabric that's difficult to penetrate.
Preventing Cross-Contamination - presenting a problem to the community and within each healthcare establishment, cross-contamination is something that medical scrubs can prevent. When the cleaning process is conducted within specialized facilities, it means that pathogens aren't transported away from the setting in question.
Comfort & Range of Movement - it's well known that being a healthcare professional is one of the most physically demanding jobs around. As well as being exposed to harmful pathogens on a regular basis, they're the ones who are always expected to stand on their feet for many hours, lift patients and more besides. Well-designed custom scrubs allow employees to do their job well while providing optimum comfort.
Function & Labour-Saving Convenience - good scrubs also make the job of the wearer easier, with loose fitting for excellent range of motion and large pockets to store and provide access to the equipment they use most often.
Making Staff More Identifiable - as is the case with any company uniform, scrubs allow professionals to be easily identified by others, achieved by using custom colour combinations or having the clinic/hospital's logo embroidered into them.
The Medical Scrubs Garments to Consider
The complete medical scrubs uniform is made up from a variety of different garments, each of which will need to be considered as part of your program. Let's take a look at what's available.
Scrub Tops - available in both men and women's fits and styles, you'll get to choose from printed, solid and snap-front options that will keep the upper body clean and protected.
Pants - protecting the lower body, scrub pants come in a range of styles, such as yoga, jogger, cargo and even maternity options.
Underscrub Tees - for those wanting a cosier feel, underscrub tees offer a long-sleeved option that provides another other layer of protection.
Scopes - another essential component of any medical scrub uniform is the stethoscope, with high quality options available to ensure responsive care is provided to every patient.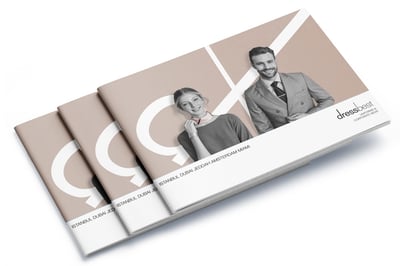 What You Should Look For In Your Medical Scrubs Program
When creating your custom medical scrubs program, the quality of the options you choose are crucial to how they perform in the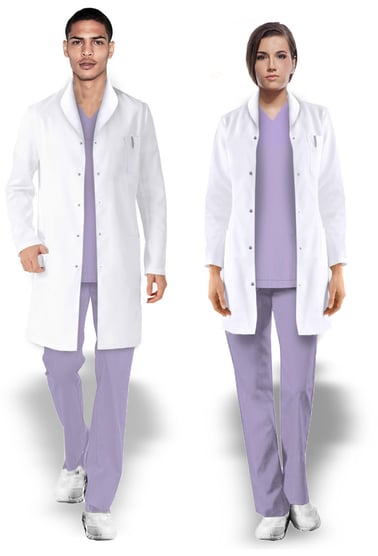 healthcare environment. These 'performance' scrubs can have a very real bearing on whether the benefits shown above are offered.
Complete Design Freedom
They may be a functional garment, but that doesn't mean your scrubs can't look good! The best suppliers will offer custom embroidery, tailored fits for all kinds of body types and a choice of colours and fabrics to suit any role in any part of the healthcare industry. Embroidered logos will usually also be available, with names and positions also able to be added.
Excellent Service
A good medical uniform provider will also offer the best possible service during the process, ensuring that all options are explored to find the ideal option for your needs. You may have very specific factors to address and so it's also imperative that the company used listens to all of your requirements and presents a range of options.
Cost Efficiency
The best hospital scrubs are designed for maximum use and optimal cost efficiency, as they are typically made from high-quality fabrics that can withstand even the most rigorous cleaning processes. This allows them to be washed again and again without fading and when the time comes, they're easy to replace
Custom Hospital Scrubs - Far More Than Mere Workwear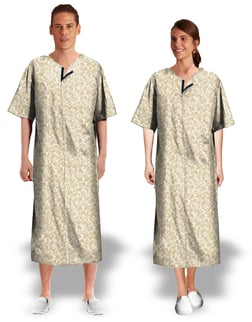 So, as we can see, custom hospital scrubs transcend the concept of mere workwear, as their supportive characteristics benefit not only the wearer, but the patient they're attending to. They protect the wearer against a range of pathogens, whether talking about Covid-19 or MRSA and provide the function and comfort that make them better at their jobs.
When you choose your medical scrubs or overall medical uniform provider, the options described represent the minimum you should be aiming for. If you don't, the very service being provided becomes compromised, with staff being unprotected and patients not given the superlative care that they need.
Comfort, durability, style, function and protection. Don't settle for any less.