Approximately 44% of Americans visit a casino at least once a year. In Las Vegas, the undisputed gambling capital of the U.S., that translates into some 42 million tourists each year. Casinos eager to attract their share of those travelers have to take a holistic look at everything from their customer service and what shows they offer to how they design their casino floors. But there's one aspect of casino design that's often taken for granted: the uniforms.
How casinos choose to outfit their employees can affect morale, teamwork, and how guests perceive their overall experience. Casino uniforms turn craps dealers and cocktail waitresses into smartly dressed brand ambassadors — just what a casino needs to impress the masses, stay competitive and embrace the future of an ever-evolving industry.
Why Gaming Uniforms Matter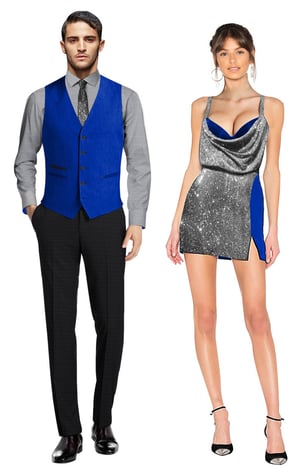 At first glance, the average poker dealer uniform doesn't seem like a very big deal. After all, it's the speed of the re-rack and the ability to quickly guide guests that matters, right? While skill is important, so is an image. Consumers are hardwired to judge a business according to factors such as whether their staff looks professional. That's especially important in an industry that relies on trust to make sure guests feel comfortable enough to put their money on the line (literally).
According to a J.D. Power and Associates study, there are other reasons uniforms are beneficial, including:
They can be used to underscore branding — imagine how a brocade vest underscores luxury at a high-end property or brightly colored minidress amps up the fun factor at a property targeting millennials

Different uniforms denote different types of workers, helping guests identify employees at a glance

Color-coded uniforms make it clear what areas employees should be in (and which they shouldn't), so it's easy to know that someone in a bartender uniform should be in one place: behind the bar

Uniforms naturally underscore the idea of team unity, promoting togetherness and fostering a sense of belonging that can help boost productivity and reduce turnover
Employee Pride and Confidence – The Hidden Power of a Casino Uniform

Perhaps the most important benefit from the list above is how uniforms make employees feel. Swapping out street clothes for a smartly made uniform flips a mental switch — it's time to represent your employer, and that means putting the guest experience first. It's easier to feel like the best blackjack dealer in town or glide through masses of tourists like a cocktail goddess if you're dressed for the part.
Uniforms are designed with functionality and security in mind, too. Casino dealer outfits are created to make it easy for dealers to comfortably stand and work for their allotted time periods, but they're also chosen because they lack places to hide cards or other questionable items. Ideally, a craps dealer should wear pants with no pockets and a shirt without a cuff where he or she could potentially hide dice. That's a real problem and a perceived one — guests want to have confidence in the employees who play a role in their gambling experience.
Wearing a well-made uniform not only gives employees confidence, but it also gives them peace of mind knowing they're in line with company standards and customer expectations in terms of trust, authenticity, and even industry experts. If an employee looks the part, they're more likely to feel capable and the guest is more likely to buy into the image, too.
What Goes into a Winning Casino Uniform?
Once you know how important proper casino wear is, the next step is understanding what makes a uniform sing. In a casino environment, it's crucial to embrace style and branding but also keep uniforms subtle enough that employees are adding to the experience rather than detracting from featured attractions like the newest bank of slot machines or the sophisticated allure of the high roller room.
Uniforms should be:
Designed with different versions for each department/position

Practical to answer the needs of actual employees

Comfortable

Cohesive, ensuring every iteration makes sense according to the big picture

Comprehensive, including coordinating accessories like belts and bowties

Easy to clean

On brand
From cocktail waitress uniforms to each casino dealer outfit, how you outfit your casino staff can affect morale, guest perception, and even your revenue. Invest in the look of your team and you'll undoubtedly enjoy the results.